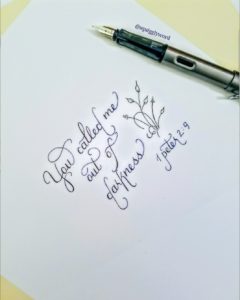 In a biblical context, darkness is the nonexistence of light and light represents God. "God is light." 1John 1:5  So, the dark is the absence of Him and all that He is. Love, Compassion, Forgiveness, Trust, Devotion, Truth, Mercy, Sacrifice. The dark lacks all that He is, which is: Good. This is why even outside of the Word of God, darkness is also synonymous with evil. I was an inhabitant of the dark. I  could say that my life in the dark had elements of good, but it absolutely did not have God.Thus confirming that my home was truly dark. He shone Himself and called me out of the darkness so that I would live in the Light and could also be light. "You are the light of the world." Matt 5:14. Now, I am illuminated. I cannot return to my former darkness and remain light because I cannot be both simultaneously. It's only one or the other.  There isn't a middle ground.
"But you are a chosen people, a royal priesthood, a holy nation, God's special possession, that you may declare the praises of him who called you out of darkness into his wonderful light. Once you were not a people, but now you are the people of God; once you had not received mercy, but now you have received mercy." 1Peter 2:9-10
This does not mean that darkness is never around. It is and it attempts to overtake me ever single day. The only way I can remain lit is to to draw from Him, His Love and His Word. "Your word is… a light on my path." Ps 119:105  I also have the ability to bring light so that the dark is disabled. "Take no part in the worthless deeds of evil and darkness; instead, expose them." Eph 5:11 So, all this happens and I am perfect? No, I'm not, except in His Light."… he has made perfect forever those who are being made holy." Heb 10:14  When my light is dim even in my best effort to shine out of love for Him, His radiates on my behalf because He loves me. He will take over in the the Light of Grace. "For darkness (sin)will have no dominion over you, since you are not under law but under grace." Rom 6:14  I gain His Loving Light which compels me to live in it.
"for you were formerly darkness, but now you are Light in the Lord; walk as children of Light." Eph 5:8
Love Always???
It all sounds really good and simple. The one thing that I didn't mention is that the darkness is much more persistent and compelling than I ever thought. In addition, I am much more susceptible to it than I would admit. It doesn't take very much for it to try and creep in. I used to think it was more powerful when I was weak. But I realized this last year that when you are on a spiritual high, it can still overtake you. That is what happened to me. I was totally oblivious. Now, I understand. Darkness can disguise itself. It can hide behind or obscure itself around good. I want to do good. Others want to do good to me. But darkness is insidious and it can circumvent even good intention. While pursuing good, my nature and darkness meshed and produced pain. It was painful. It's still painful. I think I have had the same place broken over and over about 100 times. It doesn't even get a chance to scar. But, despite the unexpected heartache, I received the most incredible blessing ever. I met Jesus as He really is. I had known Him at conversion, but this time I was introduced to Him in depth and outside of the conventional methods that I knew. I just thought of Him as the Son of God and as the sacrifice that allowed me to be forgiven. I was so deficient in my understanding of Him. He was revealed as the multi dimensional being that He really is. Each dimension: an expression of His Love. It was the best thing that ever came out of such hurt. Even now, I am fascinated by Him. I think of Him and I know that He is everything that I need and if I am in a heaven mindset, He is everything I want. I once inclined so heavily towards human acceptance. It was a desire to acquire value from other's view of me. Placing all of my worth on their assessment of me. But the only safe investment of me is the one invested in Him. He gives me a return 1000x what I put in. He enables me to then love in a human relationship through Him. This way, when humans fail, He is the foundation. But He also loves through others and He speaks in them and through them. So, they are still an extension of that loving foundation. I understand it to mean, the ones I love here and the ones who love me, are covered by His Love which makes up for a multitude of sins. For awhile there, the dark looked like it would have a victory and it did, a short term one. Ultimately, though, it couldn't accomplish its goal. The Light came through.
For he has rescued us from the kingdom of darkness and transferred us into the Kingdom of his dear Son. Col 1:12