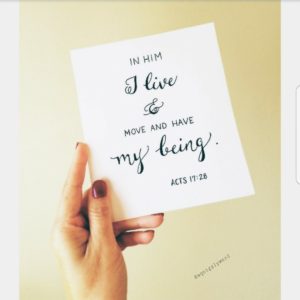 When I used to think of my heart, it just never seemed, to me, that is was profoundly emotional. Comparitively, certain others seemed more willing to give theirs away and I am not like that. I think, though, I confused openness and trust with depth of feeling. Before Him, I strictly limited my heart's capability. I super hesitated to risk it's fragility.  When He came to love me and rescue me, I responded with the level of trust I had at the time. I believed Him but I was cautious too. I never knew that as He inhabited my being, my heart would transform to be what it has become today. My heart is the essence of me, but it is His essence too. He has folded me into Him and because of Him, I can live and love at full capacity. His Love is in me, as Jesus.
"the love of God, which is in Christ Jesus our Lord." Ro. 8:39
"it is Christ who lives in me." Gal 2:20
This is what I didn't understand, but now I do. His Spirit is me too.
"… if the Spirit of him who raised Jesus from the dead is living in you, he who raised Christ from the dead will also give life to your mortal bodies because of his Spirit who lives in you." Romans 8 :11
"do you not realize about yourselves that Jesus Christ is in you?" 2 Cor 13:5
Even though, this is all true, I get to hold the reins. I wish I could say I yield to Him always, but I'm sometimes still afraid. I have seen huge changes though.  I mean I have handed my heart over pretty significantly in the last few years but even more so in the last few months.  He convinced me to loosen the death grip on trust. So, I did, slowly. Very slowly, but still. It's given me beautiful experiences. I've been able to feel the kind of care, concern, compassion (Love)that I wouldn't have imagined could grow in me before Him. If He wasn't so devoted to my heart,  I would have missed out on true life.  That is what those experiences were and are, real life. He is Life and He is Love. So this is how I exist.  I am only truly alive in Him.  I want so much to hold on to this loving and living.  But I haven't been able to override the fear completely because loving also introduced suffering.  Not from Him but from loving flawed people.  People just like me. I gave over my heart and it fell. So, it sustained breaks. Maybe it was dropped, maybe, I handed it over conditionally? I need to think about it. What is sure, is that I really did believe and that is why I took the chance.  I don't know if in those cases, I regret it. I kind of do, but then I think that Love is never a mistake. It can't be. All I have to do is look at His rate of return. He has  given His Love to all created beings from the beginning until now and the response has been notoriously low.  But, He hasn't reneged or regretted. It'd be like He regretted who He is.
"God is Love." 1John 4:8
I am praying to be like Him because I know that loving is true and right and that it is essential to life. It is Life. In fact, I wouldn't have been living if I would have missed out on or rejected those opportunities. I am a blessed woman who had the chance to love like Him. Everything that I am is found through Him.  I'm convinced that it is only in Him that I live (love) and move and have my being.
No matter what,  Love Always. ???