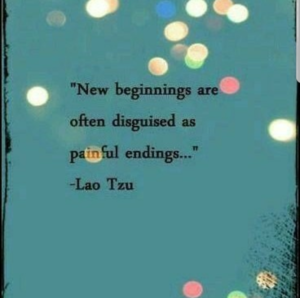 I had no idea who Lao Tzu is.  I had to look him up on Wikipedia.  He's a philosopher of Taoism.  I didn't now what Taoism is, so I had to look that up. I don't have the energy to try to understand it.  Basically, it doesn't really matter.  The saying is right on. Not every ending is painful, but if it is, it is usually not welcome.  Anticipated, maybe, but it is never easy and you probably don't always see it as a new beginning.  The transition is hard to get through, but somehow, you do it.  Yesterday, I saw this quote:
"So, far you've survived 100% of your worst days. You're doing great."
Pretty much.  The more of those days you rack up and survive, the greater history you have to look back on and believe you'll survive this next one.  I wanted to tie all this in with a verse.  The first thing I thought of was the very bad day of Jesus' crucifixion.  That was a painful end.  For Him and for His family and for all of the people who invested their lives and their faith/future and love into Him and the relationship.  As a human, all they could see in their immediate short sighted view, was that it all ended very badly.  On that day, it was the total and complete defeat of everything they had hoped for.  At that juncture, there wasn't anyone of those believers, who believed a greater beginning was coming. They were mired in the sadness and the loss.  If they had known with all certainty exactly how it would turn out 3 days later, no one would focused on the pain to the degree that they did.  So, I look at the endings in my life, the especially painful ones, and I am still alive.  I made it through. I wish I hadn't had to go through, I wish I could have gone around, but I am on the other side.  God recognizes how difficult it is for human heartache.  I am certain this is why, for believers, He provides joy.  Joy is weird.  It isn't happiness.  I am not even sure I totally understand it. The words used to describe it, cannot actually capture it's spiritual nature. It isn't bliss, or glee or gladness.  It's a product of belief in God's Love that produces nothing but goodness in our lives regardless of the pain in endings.
"Consider it pure joy, my brothers and sisters, whenever you face trials of many kinds, because you know that the testing of your faith produces perseverance." James 1: 2-3
I don't consider it pure joy when my life brings hardship.  I hate hardship.  I highly doubt I've had pure joy in the middle any pain.  Last night, though, I woke up at a late hour, and I couldn't go back to sleep.  But in the middle of all the thoughts that were accumulating and all the questions I had, I just randomly thanked God.  I am not super spiritual, especially that late, but somehow my spirit knew that there is joy in even the hardest endings and the hardship of trials. It wasn't a flood of joy.  It was more of a spark, but it was enough to trigger my gratefulness.  I knew in my soul that He wasn't hurting me. His objective is never a desire to see us hurt.
"He definitely doesn't enjoy affliction, making humans suffer." Lamentations 3:33 CEB
I think that painful endings are like death.  But, in the Scriptures, death is not always the end.  There are so many times that death was overturned and life prevailed. I like this story:
"Soon afterward[a] he went to a town called Nain, and his disciples and a great crowd went with him. 12 As he drew near to the gate of the town, behold, a man who had died was being carried out, the only son of his mother, and she was a widow, and a considerable crowd from the town was with her. 13 And when the Lord saw her, he had compassion on her and said to her, "Do not weep." 14 Then he came up and touched the bier, and the bearers stood still. And he said, "Young man, I say to you, arise." 15 And the dead man sat up and began to speak, and Jesus[b] gave him to his mother. 16 Fear seized them all, and they glorified God, saying, "A great prophet has arisen among us!" and "God has visited his people!" Luke 7: 11-17
That was about as painful an ending as anyone could experience.  Yet, it transitioned into life. Endings and Death are always capable of becoming Life as long as God involved. The Cross is the epitome of this truth.
I'm going to take these endings, and bury them in Him.  I am going to look at them as if they are seeds with the knowledge that they will bring life in some way.  That is what will be my joy while I am going through the endings.
God bless.
Love Always