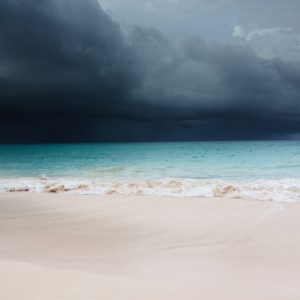 Beauty and pain. To me, this photo expresses it so perfectly. It's always both in life. It seems like one is greater than the other at times, but neither one is ever totally absent. Obviously, it's only a challenge when pain appears to outweigh beauty. If I concentrate on the hurricane, I'll lose sight of the beach. My life is like this picture. I have a series of storms raging but that beautiful shoreline is still intact. The place where He is and where I gain peace and stability. If I forget or if it's no longer visible, I will get lost in those storms. He never wants that happen. All I need to do is call.
"Then they cried out to the Lord in their trouble, and he brought them out of their distress.He stilled the storm to a whisper;the waves of the sea were hushed. They were glad when it grew calm, and he guided them to their desired haven." PS 107:28-30
Sometimes when they're back to back, it seems like I'm calling non stop. It's what He wants, to hear in my voice my trust in Him and His Love. I cannot understand why He has me so deep in His Heart that He is always aware of me and ready to listen before I ever turn to Him. When I seriously think about how He feels toward me, it's hard to believe He actually loves me this much. This is why pain is never without beauty. He is the beauty.
Your eyes will see the King in His beauty; Isaiah 33:17.
It doesn't matter where I am, His beauty is on display and available for me to see.  I see it in His Forgiveness, Concern, Devotion, Provision, Protection. Currently, I cannot avoid the pain altogether, but He doesn't allow it to exist without accompanying it with His Beauty. I wish I could just have the beauty. But I can't since I live in an imperfect world. But one day, I will be Home and then I will only experience His Beauty forever.
"One thing I have asked from the LORD, that I shall seek: That I may dwell in the house of the LORD all the days of my life, To behold the beauty of the LORD And to meditate in His temple." PSALM 27:4-5.    ss
LOVE ALWAYS ???
————
Right now, in my part of the world, it's a perfectly sunny, hot day under a beautiful blue sky. Looking at it, my perspective gains peace. It's nice not to have to wear a jacket or drive in the snow. It makes me want to go get ice cream. But truthfully, I'm not miraculously resolved in these life issues that affect close family and friends, yet, I'm also not drowning in fear and worry. I started to, on Wednesday and also early Thursday. I let Him know and He heard me, and the voices of my friends and heartmates. I feel certain that He is going to take care of all these situations. Even though, I am still concerned, I am putting these concerns and the people involved at His Feet. In doing so, I am enjoying this day and the beauty of Him in it.