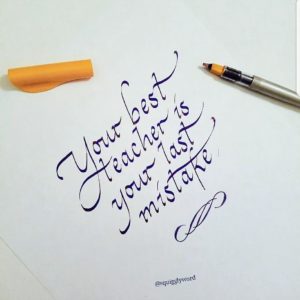 That quote is mistaken.  The Creator of All is the Greatest Teacher. But that doesn't mean that mistakes are not a part of the curriculum.  I know because it feels like I have a degree in it.  I've learned and I've changed because of all the wrong turns I've made.  But recently, I thought and thought about some of the more recent mistakes  or perceived mistakes that I've made.  I think I wanted to understand if they really were mistakes.  If they were, what did I learn?  If they weren't, then what were they?  I can't even answer my own questions.  I do think that there was a lesson in all of it.  I am certain God takes advantage of each teaching moment.  I believe this because none of the Gospels declare Jesus as a preacher. He is constantly teaching.
"He was teaching daily in the temple" Luke 19:27
"during the day He was teaching in the temple." Luke 21:37
"Jesus went up into the temple, and began to teach." John 7:14
"He sat down and began to teach them" John 8:2
"Every day I was with you in the temple teaching," Mark 14:49
"Jesus was going through all the cities and villages, teaching in their synagogues " Matthew 9:35
On and on…
He's been an instructor but He is also a very attentive tutor.  Sometimes, I even feel like He intercepts in order to help me not fail. He has provided all the information I need in His written Word.  I can't say that I don't have access to it.  When the Word talks about itself, it reaffirms it's divine capability. Hebrews 4:12, 2 Timothy 3:16.  I've relied on it to assist me in so many areas of my life.  But- but there are moments I've wanted what I desired more and so disregarded the knowledge he's given me. Then, I've had to rely on the follow-up lesson of Grace.
-"the grace of God has appeared that offers salvation to all people. It teaches us to say "No" to ungodliness and worldly passions, and to live self-controlled, upright and godly lives in this present age," 1 Titus 2: 11-12
To be candid, I currently have areas in my character that even Grace hasn't affected change because I am not learning the lesson. But I believe, if I stay faithful, I can change. His Love/Grace ignites repentance and He will not let me fail.
"The Lord makes firm the steps of the one who delights in him; though he may stumble, he will not fall, for the Lord upholds him with his hand." Psalm 27:23-26
I am meant to retain what I've been taught, but continue to progress in learning as I move forward.
"… I do not consider myself yet to have taken hold of it. But one thing I do: Forgetting what is behind (mistakes) and straining toward what is ahead," Philippians 3:13
—
When I look at what I've just written, I still do not know if some of the decisions I made from the last year were complete mistakes.  Maybe I'm just trying to redeem some value from what occurred.  I feel this way because I engaged my heart full on and looking back, I don't want to believe it was in vain. There's a unexplainable freedom in giving your heart to someone or to an ideal even as you're standing on the edge thinking there's no way out.  I want to believe that those risks were worth it.  I wish I could see and understand if it had any goodness in it.  That would make me feel better about having taken the chance despite the possibility of making a mistake.  The chances are, I'm probably never going to know completely. The only thing I know with certainty is that I'm not getting out of Mistakes 101.  I'm just going to keep learning and hopefully get an education.
Love Always ???