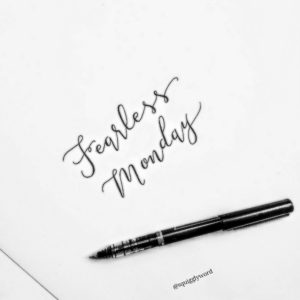 My fears range from silly to serious:
Fear of losing love
Fear of heights
Fear of making a mistake
Fear of being vulnerable
Fear of spiders
Fear of misplacing my trust
Fear of being betrayed
Fear of wasting my time
Fear of harm
Fear of people
Fear of squandered love
Too many more to list.
This morning I've already confronted 6 of those fears. My quality of life and love diminishes when fear dominates. So, f*%$@ fear. I do not care what form it appears in today. It can show up in the actions/inaction of others, words I hear or read, or memories of things past. It won't matter because I am not a slave to fear. "For you did not receive the spirit of slavery to fall back into fear, but you have received the Spirit of adoption as sons, by whom we cry, "Abba! Father!" Romans 8:15 The way He has loved me and loves me, is infinitely greater than the fear that is attempting to shroud my heart. I have to be entrenched in that truth. When I let fear rule, I get irrational, I question everything, I try to take over and sometimes I eat too many Reese's peanut butter cups. (this week) The thing is, I can't misuse my life on any of that. I believe what He told me regarding my purpose. It is significant and it is sanctioned by Him. I am not idealistic. I know it will be a battle the rest of today. There is a part of me that wants to give legitimacy to the fear. It seems justifiable especially if it has to do with people. Still, I'm not going to let it poison what I know about Him and His Love for me. He already told me:
"Take courage! It is I. Do not be afraid." Matthew 14:27
I am going to take joy in this day. I'm moving forward in the direction He's given me for this ministry. I am enjoying that it's sunny outside even if it is cold. The snow on the ground is melting and I'm going to out for a while today. Oh, and it's May Day but not 3 times since He already rescued Me.
Love Always